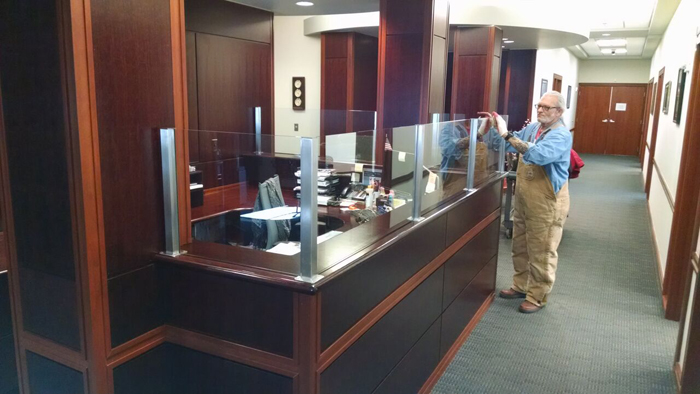 Designing a building includes more than just structural necessities. It also includes the style and professional aesthetic that businesses will need to impress clients. Glass is an important part of any modern building, but Diamond State Glass offers more than just glass panes. We have a wide collection of commercial glass products that are assembled, shaped, and cut according to your exact specifications and measurements. Our glass is tough, capable of withstanding inclement weather. Our glass is made to last a lifetime.
Here are just a few of the commercial glass products we manufacture for our clients:
Safety Glass You may not think of glass being tough and sturdy, but our glass is anything but fragile. Safety glass will keep your clients and employees protected from falls and accidents. Better yet, it will look excellent and classy.
Patio Glass A glass patio enclosure or glass patio doors can let in ample sunlight for a warm and inviting ambiance. Customers will appreciate this welcoming atmosphere in your office or commercial space.
Tinted Glass When the sunlight on your building is harsh, tinted glass will keep the glare of sunlight down for the businesses that operate inside your building. Better yet, tempered tinted glass will save you money with its energy-efficient design. You can worry less about your potential power bill with tinted glass.
Bullet-resistant Glass For maximum protection where and when it counts, our bullet-resistant products add a style and strength that no other glass can match.
Fire-rated Glass Where regular glass may shatter and warp under high temperatures, fire-rated glass can stand up to the heat.
These are just a few examples of the commercial glass products Diamond State Glass can create and install in your construction projects. Others include:
Single Pane Glass Although it was once standard in residential homes, single-pane glass is less common today. It's less expensive than double- or triple-pane glass, but the thin material won't keep out noise and won't serve as insulation, meaning that energy bills will cost more over time.
Insulated Glass Insulated glass is created with two thin panes of glass that have an air bubble trapped in between them. This air makes this type of glass particularly good at controlling heat gain and loss, meaning it can help with temperature control and even lower heating and cooling costs. For these reasons, it's particularly beneficial in cold regions.
Double Pane Glass Double-panel glass is made of two panes sealed together and is known for being more energy efficient than single-pane glass. Because it acts as insulation, it can result in energy savings of roughly 20 percent.
Picture Frame Glass Also known as "conservation glass" or "museum-quality glass," picture frame glass is most often used for just that—framing pictures and art. This material blocks UV rays to protect whatever is behind it.
Storm Window Glass Sometimes a location may have a weaker type of glass in the windows that's not ideal for withstanding harsh weather. An easy solution to this that is frequently less expensive than replacing the window, is installing storm windows over the existing pane. Glass used for storm windows is thick and durable to withstand high winds and provide insulation.
Pattern Glass Available in a wide variety of designs, pattern glass has been imprinted with a pattern or texture in an artistic style. This design is frequently used in glassware, doorways, and other decorative situations.
Obscured Glass To create obscured glass, a pane of clear glass is either sandblasted or etched in a pattern on one side. The result is a sheet of glass that still lets light through but is opaque, blocking clear vision. This is frequently chosen for privacy-sensitive or decorative uses.
Laminated Glass Laminated glass is manufactured out of two or more panes of glass with a thin layer of polymer or resin sealed between them. This center material makes the glass extremely durable and wind-resistant, making it a good choice for areas of the country prone to hurricanes, tornadoes, and other severe storms. The high durability of this type of glass means it is commonly used in construction projects. When laminated glass is broken, the film in between the two panes will keep it in one piece.
Tempered Glass When a pane of glass undergoes a specialized heating process called tempering, it becomes stronger and is known as tempered glass. This material is unique in that when it shatters, it is designed to break into many tiny pieces rather than large shards, making it a safer option for windows located near pedestrian traffic or in office areas.
Annealed Glass Many types of specialty glass start with annealed glass as the base material. Annealed glass is inexpensive, common, and versatile, as it can be cut into many shapes and sizes, even curved panels.
Impact-Resistant Glass Impact-resistant glass is typically manufactured by combining laminated glass with a tempering process. The resulting material sticks together even when broken, making it resistant to impact and blunt force.
Spandrel Glass Unlike many of the other glass types on this list, spandrel glass is often used for decorative purposes, as it's opaque and can be manufactured in specific colors. Office buildings frequently use spandrel glass to let light inside but prevent people outside from seeing through to the floors inside.
Heat Strengthened Glass This type of glass is essentially annealed glass that has undergone a repeated heating and cooling cycle. This process approximately doubles the strength of the material.
Wire Glass Sometimes known as wire mesh glass, this material has been reinforced with a network of metal wires. The embedded wire makes it extremely heat-resistant, so it's often used in locations where fire resistance is beneficial.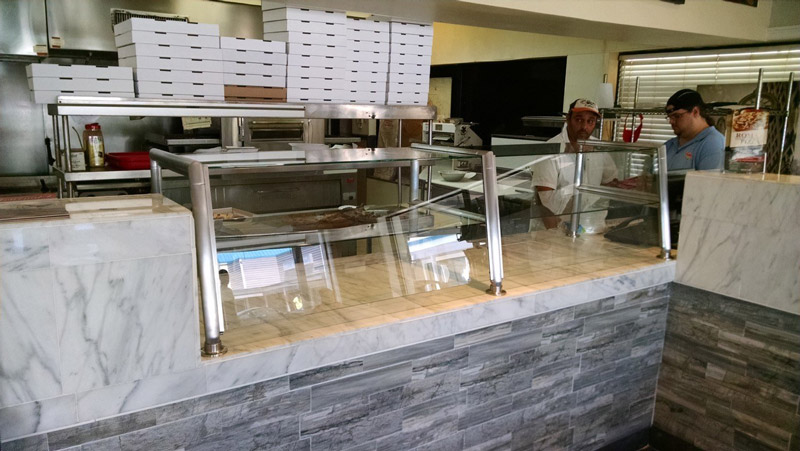 Choose Diamond State Glass for Your Commercial Projects
Diamond State Glass focuses on excellent client service and satisfaction with our products and their design. We guarantee the quality of our commercial glass and reinforce them to stand up to the strongest wind, rain, and force.
We don't just cut glass: we manufacture glass that can stand the test of time. Discover the difference Diamond State Glass can make for your commercial projects! Give us a call today for a consultation on the specs of your commercial renovation or construction project in Dover, Camden, and surrounding Delmarva areas. We would be more than happy to assist you!