We aim to provide our customers with glass mirrors that are both beautiful and safe. Our selection of products presents you with a variety of high-quality mirrors to meet your residential and commercial needs. We have experience working with a wide range of mirror sizes and shapes for bathrooms, dance studios, and exercise rooms, among many others. Whether the mirror you're looking to install is for practical use or solely for decoration, we can cut a mirror that's completely custom for you. If you're not sure what you want yet, we can help guide you choose. But no matter what you choose, you'll be sure to be satisfied with our quality custom mirrors and expert installation. Here's a guide to some of our mirror products.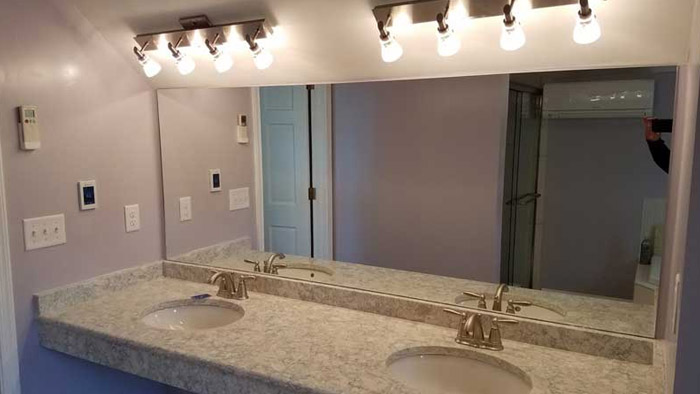 Clear Mirrors
If you're looking for a traditional mirror, then consider a clear mirror. Clear mirrors are the standard type of mirror that has either a silver or aluminum backing to reflect without any obstruction to the view. Our process of mirror cutting at Diamond State Glass enables us to customize the shape and size of the mirror you want to fit both your room and your tastes. Not only will we expertly cut your mirror to your exact specifications, but we will also install and securely back it so that it stays in place.
Tinted Mirrors
If you're looking for something a little different from the standard clear mirror, take a look at our tinted mirror options. Tinted mirrors have colored or multicolored backings instead of a silver-gray backing, which gives the mirror a certain tint depending on the color of the backing. These more colorful mirrors are becoming more popular in homes, especially for decorative purposes. Even though they are becoming more prominent for decoration, tinted mirrors are still practical and can be used like clear mirrors while also serving as a beautiful centerpiece.
Safety Backing
To prevent your mirror from falling and to protect you and your loved ones, every Diamond State Glass mirror comes with expert installation. You can also request to have our team install safety backing to your mirror. Safety backing helps ensure that the mirror stays firmly in place right where you want it. This will prevent the mirror from falling, being knocked off the wall, or cracking. It's also a safety precaution to protect anyone from getting hurt, should the mirror fall or break.
Tempered Safety
Each of our mirrors is made with high-quality tempered glass. By tempering the glass, your mirror is much safer because it makes the glass stronger and less likely to break. We hate to hear of mirrors breaking, but if it were to happen, tempered mirror glass breaks into small and manageable pieces that are far less jagged and harmful than pieces from an untreated glass mirror. Tempered glass is also better suited for warmer areas because of its heat-resistant properties. Untempered glass can break under high temperatures, which makes tempered glass mirrors the better option. Additionally, tempered glass is far better than untreated mirror glass in preventing your mirror from getting unsightly and potentially dangerous scratches and marks.
Contact Diamond State Glass Today
If you need custom-cut mirrors, be sure to contact us at Diamond State Glass today. Whether you need mirrors for a residential building or a commercial building or want a clear or tinted mirror, our team of experts can help you get just what you need. From taking specific measurements and cutting the perfect mirror to securely installing and hanging the mirror on your property, you'll be 100% satisfied with our work and products.
Send us a message or call us today to discuss the mirror service you would like. We can also supply you with a free quote. We look forward to helping you meet your glass needs in Dover, DE!