Glass Tabletop Sales & Installation Services in Dover, DE
For nearly two decades, Diamond State Glass has been Dover's premier name in custom glass tabletop sales and installation. Our years of expertise combined with a dedication to both high-quality materials and service means you'll always receive the best tabletop glass, installation, and the personalized customer service you deserve. When you want a new glass tabletop, trust our expertise to get the job done.
Why Choose Diamond State Glass
When you're looking for the best-quality glass tabletops in Dover, we specialize in creating custom pieces for our customers. Not only that, but beautiful glass tabletops are some of our most popular products at our custom glass shop near Dover, DE. Each glass tabletop we provide is custom cut for the desired thickness and specific dimensions of your conference table, desk, coffee table, dining table, dresser, side table, etc.
Our knowledgeable and friendly glass specialists can meet with you in person to take precise measurements of your furnishings to ensure the glass tabletop is cut for a perfect, seamless fit. Our glass specialists can also discuss customization options, give price estimates, and make helpful suggestions as to the thickness of glass that would best suit your needs. We want each one of our customers to be satisfied with their custom tabletop, which is why we are more than willing to work with you every step of the way in creating exactly what you want.
The Diamond State Quality Standard
Diamond State Glass in Dover, DE, is your trusted provider for all residential and commercial glass tabletop sales and installation needs. We take pride in a commitment to providing exceptional customer service, with individualized care for every valued customer. Our involvement in the communities of Dover and Camden has made us one of the most recognizable and trusted names in the glass industry for over 20 years. We only provide the highest-quality glass and glass materials for your home and business. Like a diamond, our glass is perfectly cut, durable, and will shine for years to come. Not only do we take special care in making sure our products are top quality, but all our specialists at our family-owned business are reliable, courteous, and friendly.
Our Custom Glass Tabletop Services
Whether you're a business owner and need a new, professionally-cut glass tabletop for your store or office, or you just want a new tabletop for the dining room table in your home, we can get the job done at Diamond State Glass. We specialize in all types of glass tabletops for both commercial and residential customers. From dining tables to accent pieces, we do it all, so don't hesitate to reach out to us to get started on your custom tabletop!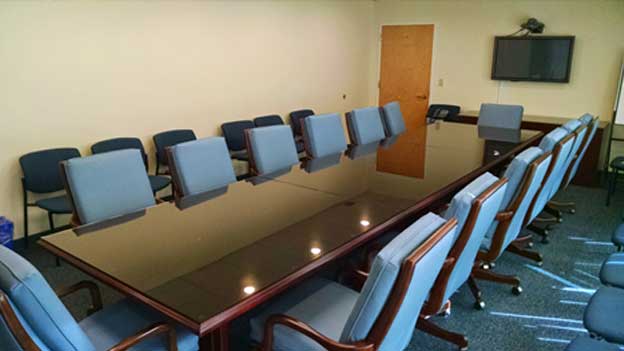 Commercial Glass Tabletops
Whether you need glass tabletops for your business or commercial building, we have the expertise and resources needed to custom-cut and professionally install any size, shape, and thickness of glass covering. Don't leave your furniture unprotected and susceptible to scratches, dings, nicks, markings, water damage, dust, grease, and other damage that's likely to occur in an office setting with frequently used desks and tables.
Large conference room tables are a significant investment and are often made from expensive wood. Not only do glass tabletops protect such tables, prolonging their good condition, but they also drastically help create a "finished" and professional appearance. Glass also makes for an easy-to-clean alternative to wood tables. If someone spills their morning coffee during a meeting, it can easily be cleaned up without leaving any type of mark.
Residential Glass Tabletops
In addition to commercial service, we work with residential projects as well. Whether you're looking for a new tabletop for your dining room table, kitchen table, coffee table, or any other type of surface in your home, we can custom cut it for you.
Not only is glass easy to clean and maintain, but it also protects your expensive furniture from irreversible damage. Wooden dining tables are likely to show scratches from utensils, dents, water rings, and fading when not protected by quality glass. Especially in homes with kids, protecting furniture like coffee tables, dressers, and desks from sticky, greasy food, scrapes, markers, dents, and other damage, becomes extremely important in maintaining the condition and value of your furnishings.
Our glass experts can custom cut the highest-quality glass to fit any dimensions you may need, whether you're ordering and installing glass for a new table or simply replacing a cracked, broken, or shattered glass tabletop. Diamond State Glass is here to ensure that the glass in your home always shines like lasting diamonds!
Get Stunning Glass Tabletops from Diamond State Glass
When you're ready to take the next step in securing a high-quality glass tabletop, contact our Diamond State Glass location in Dover to get the job done. We'll work with you through the planning and designing to ensure you get the custom tabletop of your dreams. Don't hesitate to contact us today for more information or a free estimate for your custom glass tabletop!