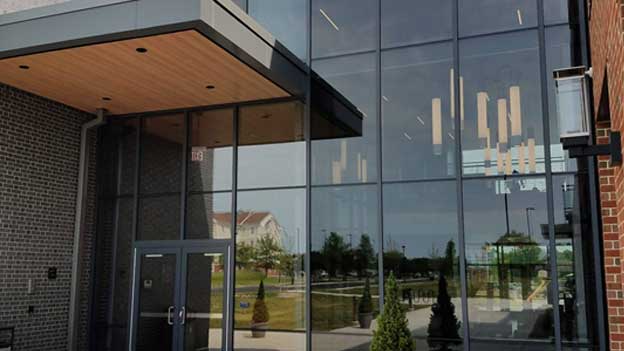 Window Supplier in Dover, DE
For almost 20 years, Diamond State Glass has been Dover, Delaware's premiere glass window supplier. Our expertise and dedication to both high-quality materials and service mean you'll always receive the best glass, window installation and repair, and the personalized customer service you deserve.
Whether you need glass windows replaced, repaired, or installed for your residential or commercial property, we're the window supplier experts who do it all. We can custom-cut the highest-quality glass to fit any dimensions to replace small or large door windows, interior and exterior windows, glass panes and paneling, and even custom mirrors.
We've supplied hundreds of quality windows and glass pieces across the state for nearly two decades. Trust Diamond State Glass with your home or business and experience a company with diamond-strong standards.
The Diamond State Difference
Diamond State Glass is your trusted resource for all residential and commercial glass window replacement, repair, and installation needs. We strive to provide the most exceptional customer service to each and every client, built on dedication to the communities of Dover and Camden, DE, high-quality, reliable products and materials, and over 60 years of combined experience in the glass, mirror, and aluminum door industries. Like a diamond, we're the best of the best!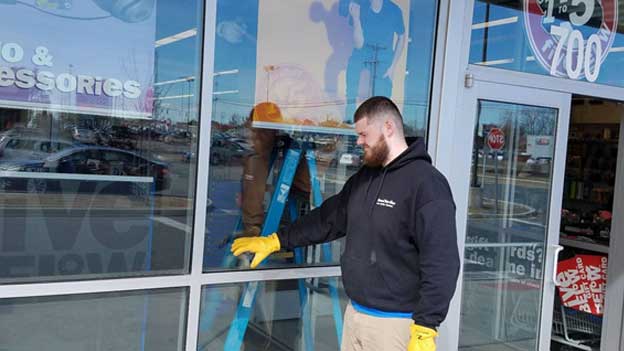 Commercial Glass Window Replacement and Repair
Installing and replacing windows for a commercial property or business can be an overwhelming task without an experienced team of professionals like Diamond State Glass at your disposal.
Additionally, choosing the correct glass can have a big impact on lighting, appearance, and security. Our friendly and knowledgeable staff can help you select the best options for your unique wants and needs.
For instance, colored or tinted glass may result in less natural light inside, but offer greater UV protection and privacy. Energy-efficient glass may cost more upfront, but save you a significant amount of money over time. Business buildings with large, floor-to-ceiling windows can offer a more modern and inviting atmosphere, but may not be right depending on personal preference, budget, and business type. Interior glass paneling for staircases, railings, or office space dividers is also popular and available through Diamond State Glass.
We ensure your commercial property will be as safe as possible from weather, elements, unwanted pests, and intruders, with professional window replacement installation and commercial window frame repair. Our experienced technicians create a perfectly tight seal around windows and securely install other glass features that either meet or exceed safety standards.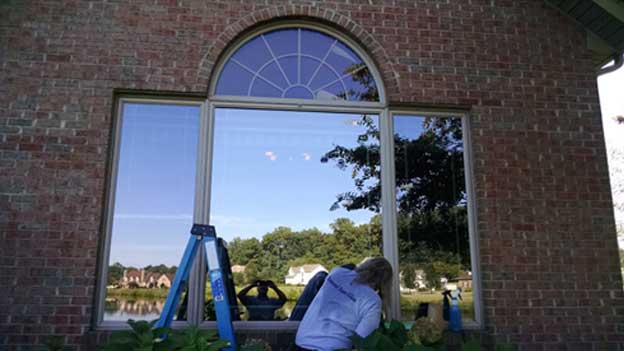 Residential Glass Window Replacement and Repair
Whether you're building a new home, updating your current home, or in need of window replacement thanks to a stray baseball, Diamond State Glass are the professional and affordable folks to call.
We understand the stress of needing to quickly replace or repair broken windows when weather, animals, and security are all factors; Our mission is to relieve this stress as soon as possible by quickly installing new, quality glass windows, or filling small cracks to avoid further damage that would require total window replacement. While we offer top-quality residential glass window replacement, we do not replace damaged residential window frames.
Locally owned and operated, we take pride in our family business and strive to make you feel like you're part of it with everyday low prices and personalized care. We partner with several, industry-leading glass brands to provide you with options and products you can trust to meet our demanding standards.
Choose from energy-efficient brands that reduce heat or cool air loss, solar brands, colored tints, UV protection, and so much more. When it comes to residential window and glass suppliers, no one matches Diamond State Glass.