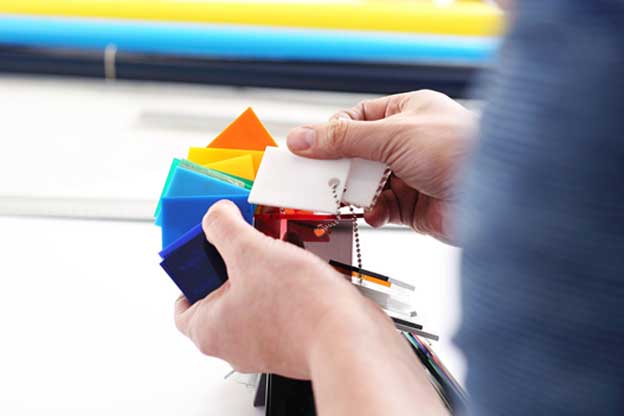 Diamond State Glass technicians are experts when it comes to glass products. But we also know that many designers and construction contractors are interested in alternative materials to suit the needs of their window and paneling projects. Diamond State Glass offers strong and durable plastic products for our customers, partnered with the same high-quality repair, replacement, and installation services that we provide on every job.
Whether you're going for a purely decorative window project to lighten up a room, or you're looking to install a practical window system to increase visibility in your commercial workspace, we'll use our expertise to give you the best type of plastics for your unique requirements. Are you not sure where to start? Listed below are the types of custom plastic products we create, as well as a quick guide to the benefits of some of our current plastic products.
Acrylic Plastics
When looking outside of traditional glass for window, screen, or panel alternatives, acrylic is a great material to consider. Acrylic is cost-effective, especially for projects that cover a wide area. If you worry about the optical clarity of acrylic, we offer only the highest quality materials on the market with approximately 92% transmission of white light. Our years of experience enable us to shape the plastic to whatever size or frame you're looking for, whether the acrylic is used for a new sunroom, conference room, shower door, or a protective shield for the cash register area of your business.
Speaking of protection, acrylic also has an increased safety benefit. With almost 17 times the impact resistance of glass, acrylic is a great option for keeping employees safe. And even if it does crack or break, acrylic doesn't shatter into as many pieces and offers little danger of cuts during clean-up.
Polycarbonate Plastics
Polycarbonate windows and panels are another great alternative to traditional glass, offering the same clear visibility as acrylic materials with fantastic strength and long-lasting quality. In fact, the traits of polycarbonate may surprise you: the polycarbonate we cut offers almost 20 times the impact resistance of acrylic plastic, and it can endure extreme temperature changes and deformations that would cause glass to shatter and other plastics to buckle. There's a reason polycarbonate is used to create the windows of deep-sea submersibles!
Our custom-cut polycarbonate sheets have an incredibly high shatter resistance despite their lightness, increasing protection from extreme weather or vandalism threats that might try to break through. They can even provide thermal insulation depending on where they're installed, which can save money on long-term heating or cooling. Easy to cut and shape, polycarbonate plastics make custom projects more affordable without sacrificing quality.
Plastic Tints
Adding a tint to one of our plastic window selections is an excellent stylistic and protective design choice for your home or business building. You can combine and customize various colors to create a stained glass aesthetic or keep the tint simple and dark to increase privacy. Tints provide added shatter protection and reduced glare from external UV rays, which can protect any delicate furniture and décor elements prone to fading from sunlight exposure. Tints can even safeguard the plastic itself, providing UV protection that would otherwise cause the plastic to yellow or cloud.
Contact Diamond State Glass for Custom Plastic Products
No matter which cut, shape, and size of plastic window you need, it's a challenge that we're ready and excited to take on at Diamond State Glass in Camden, DE. Family-owned and operated since 2003, we take pride in providing our community with high-quality products and personalized service. If you are prepared to upgrade your home or commercial building with an acrylic, polycarbonate, or tinted window system, contact us today!